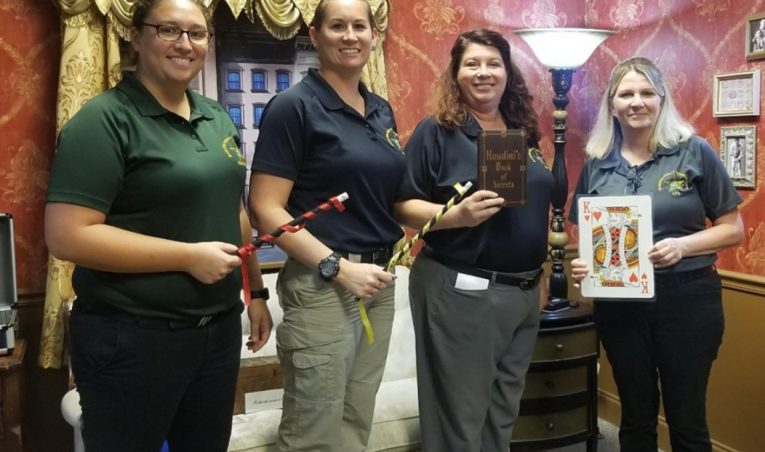 Escape rooms can be intimidating to new players. One's first game is almost always the hardest for them to do since they still have to familiarize themselves with the rules, know what they should be looking for, and communicate in a group to solve a puzzle. Although it can feel impossible to get it right on your first try, there are strategies that you can equip yourself with before going in your first escape room experience.
How to beat your first escape game
Solving an escape room adventure for the first time can be equally exciting and nerve-wracking. Since you're given little information about what the room's puzzles will be like, it's best to prepare for anything by strategizing how you'll be anticipating these obstacles. In this article, we will share four practical tips to help you in strategizing your way to conquering your first escape room:
1. Find the right group number
Most places have a recommended number of participants in each room. Finding the right number of participants to go in with is usually in between the minimum and the maximum number of players.
Having only a few people to find clues and brainstorm for solutions can leave you with wasted time and be stuck in a rut. On the other hand, having too many people can make it difficult to hear who's speaking with idle people too afraid that they might disrupt what the other players are doing.
Selecting just the right number of people while making sure that your teammates can communicate adequately is one effective strategy to stay focused and coordinated in facing any challenge.
2. Create a versatile team
Escape rooms are designed to force you to think outside the box. This means that if you want to succeed in finishing on time, you will need to have a versatile team that has its own strengths.
Some rooms can be text and memory heavy, requiring you to solve puzzles by memorizing codes or names to match them to a key. Other puzzles are more visual and space-oriented, requiring different ways of looking at objects to see patterns for clues. Make sure that you invite the right combination of people that have their unique strengths when it comes to puzzle-solving.
3. Follow instructions carefully
People who fail to finish rooms usually miss out on critical instructions that are given to them. One of the many reasons people end up not completing an escape room is because of too much downtime.
Not knowing what to do with a clue usually comes from not correctly understanding what it means, or not reading the instructions carefully. Adding the wrong number or misspelling the right word can also lead to too much wasted time in realizing your errors and going on a do-over on a puzzle that you could've finished earlier.
Always remember to be careful in following instructions. Don't let the time limit force you to make careless mistakes in understanding the clues that you receive.
4. Use your hints wisely
Most escape rooms have a 'request a clue' system, which allows players to ask for hints when they're stuck on a specific part of the game. The penalty for clues is usually time deductions, which means that you might not be able to clear the room in record time if you use one.
It's important to know that using clues doesn't invalidate your success in finishing and escape room. Hints are actually productive time savers, especially when you're dealing with a time-consuming part of the challenge. Learn to use these hints wisely if you feel that solving one puzzle will help you in progressing to later obstacles faster.
Conclusion
Escape rooms are fun activities that allow you to blend a fantasy scenario into a set of real-life obstacles, such as finding clues, solving puzzles, and cracking secret codes. The thrill of finishing this adventure is a fun activity that long-time friends and even acquaintances at work can enjoy together.
We provide premium escape rooms in Saratosa, Lakwood Ranch, Brandenton FL, with themes and puzzles that are sure to kick your brains into gear! Contact us today for the best escape adventures in the area!